Who are we?
We are a family owned and run business based in the flat Lincolnshire Fens. I'm Liz and I manage the day to day running of Hetty's as well as our already well established on line store SocksFox selling European socks and underwear. SocksFox started trading over 10 years ago, we now have a wealth of experience, fantastic staff and excellent customer loyalty.
With having a Dutch father, growing and horticulture has always been a part of my upbringing. Being part of a family who own and run a successful wholesale herb and plant nursery locally, I couldn't help but see the opportunity to merge the success of our two businesses and create Hetty's.
I have always loved food and drink and the freshness of home grown products and know that I am not alone in this. So making herbs more accessible, especially the more unique varieties we can offer is an added bonus. In addition to this my interest for wildlife means that we can help make easier to bring lots of bee and insect friendly plants to people's patios and gardens. I am also keen to make sure we give something back and we will be donating part of every sale from Hetty's to the British Hedgehog Preservation Society, click here to read more about Hetty's Charity of the Year.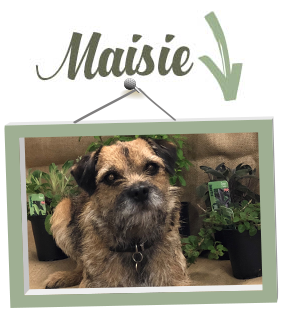 Who is Hetty?
Hetty is a Border Terrier and is the inspiration for our Hetty's Herbs shop name and was the true boss at the nursery! Hetty sadly passed away in 2018 at the grand old age of 13. Keeping an eye on things at the Hetty's & SocksFox dispatch site is Maisie, Liz's partner in crime. Maisie, has been learning the ropes of the on line mail order business since she was only a few months old, so Hetty was confident Maisie can do a good job in ensuring all the plants will be in tip top condition and dispatched on time every time!